Mr Wong Sydney
As an asian I've always been very skeptical about the authenticity, taste and bastardisation of asian food in western countries. Personally, I've always felt that the best Asian food comes from of course, Asia itself because we see so many western chefs attempting to take their own spin on a dish and failing and/or trying to do horrible fusions. Mr Wong is definitely one place you can enter, and leave happy. While the food is not really traditional asian(who cares?) it's beautiful, well made and delicious, and that's all that matters. I loved it so much I made sure I came back for a second visit before I flew back to Sg.
Went there on the last week of a weekday and there was already a line out to the street. I wanted to make a reservation but it's stated in their website that they only accept dinner reservations for a group of 6 or more. So no matter what, we just had to suck it up and wait (for about almost 2 hours) The place can be pretty confusing to locate because there are no clear signs directing to the restaurant itself. Both times that I've been to Mr wong, the cabbies just drop me off at some area and I had to do a little bit of walking. The restaurant is situated in a little alley one block down the main road.
The restaurant itself is pretty big, spread over two floors. The kitchen, dim sum area and main bar are on the first floor, while the floor below houses another bar and more seating. The ambience of the place was pretty nice, modern contemporary with bits of asian accents and decor here and there. The main floor was really dim though, which explains the harsh light on some of the food pictures below.
We were seated on the first floor next to the bar right in a corner. Ive bumped up the exposure and brightness of the pictures so they look pretty well lit but no. Half the time we were blended in the darkness and couldn't get the attention of the staff because it was that dim.
The lower floor, which also has a live seafood tank for you to choose from. I stayed clear because live seafood by the grammage is pocket robbery.. ;P
A more spacious, lively, and bright dining space which I favoured.
All the little jars and knick knacks, and also a very asian styled circular communal dining table with a lazy susan, so zi char restaurant style!
On my second visit I was posted to the bar downstairs because they didn't have enough seating. At first when the waitstaff brought me to the table I was quite sad but eventually it was ok because the counter top is large enough for the dishes we ordered!
Spicy white cut chicken with sesame sauce and sichuan chilli oil
($18 AUD)
Also known as 口水鸡 (Kou Shui Ji) which translates to
saliva chicken
in english. While the dish sounds like its marinated in stranger's spit, it is actually intended to mean that it is so delicious that your mouth waters just looking/smelling it.
Essentially Kou Shui Ji is a very Sichuan-ese dish. The chicken is poached and dressed with Chilli, Sesame oil, Vinegar and Soy sauce. (from what I know la) When done proper, this dish has a perfect balance of salty, tangy, spicy and savoury, which is yum as hell. I love love love love Sichuan food, I'm a huge fan of Mala, so I knew I was gona love this dish even before it came out of the kitchen.
The version here is a little bit more dulled down, with flavours not as strong and in your face as regular Mala dishes. Chilli was milder probably to suit and cater to the tastebuds and spice tolerance of the locals. Personally I would have personally loved it spicier as I'm a chilli fanatic, but the dish was overall well balanced enough for the average diner.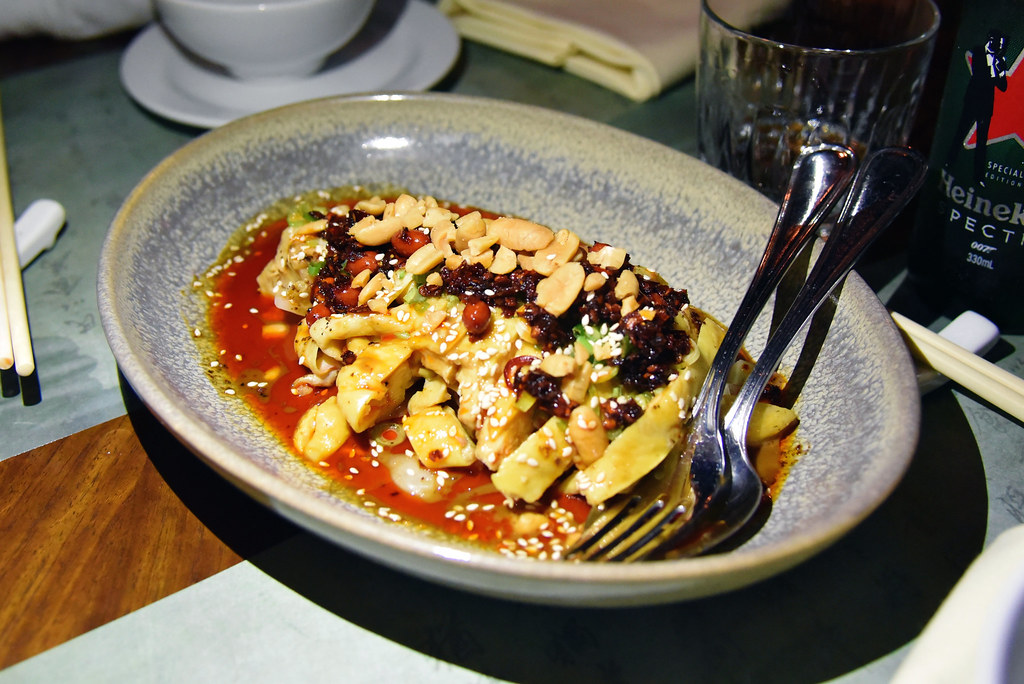 The version at Mr Wong comes sprinkled with roasted peanuts, cucumber slices with plump pieces of poached chicken sitting atop some sort of sour pickled veg(cabbage?)
King crab fried rice
"typhoon shelter style" with garlic and chilli
(small $24
large $30)
I think this was something that the waiters recommended, but we were not really impressed by this dish. Essentially it's just fried rice to me with crab and fried garlic. Missing the wok hei that makes fried rice beautiful. Considering this dish is $24AUD, it really was kinda overpriced for average tasting fried rice. Maybe its pricey because of the crab?
Salt and pepper lamb cutlets
fennel and cumin
($32 AUD)
I really loved this one. During my first visit to Mr Wong I was drunk and hungry, so we ended up having too much food. I ate one cutlet and packed the rest, and on my extremely bursting stomach I made a note to myself that I had to come back and try this again when Im not about to throw up from stuffing my face.
The lambs were done really well, a crunchy crust, cumin wasn't very overpowering, and the best part is that the meat inside was not dry AT ALL. Both times I've ordered this they came out well cooked, meat was tender, juicy, fatty, and crust was well seasoned, never soggy.
I dont know how they do it!! Mr Wong what is your secret? How can you deep fry lamb cutlets and get such perfectly crunchy exterior and juicy interior? I don't know if they sous vide the meat, bread/crust it and deep fry quickly in very high temperatures. SOMEONE PLEASE TELL ME. How can deep fried lamb be so good?!!
Chinese roasted duck
half $34, whole $60
We got half a duck and we only ate One piece.
One.
Actually it was me.
I was the only one that ate.
The seasoning/marinade that they used for their duck wasn't to my liking, all I remembered was it tasted like salty 5 spice powder, I think Crystal Jade/imperial treasure/ has better roast duck.
We were so full that we had to take away the remaining half a duck minus the one piece I ate. We ended up giving it to a homeless man but he didn't seem to really appreciate it hahaha.
Mapo tofu
stir fried pork mince with chilli and Sichuan pepper on freshly steamed soy milk custard
$25 AUD
Ok I know Mapo Tofu is borderline peasant dish, It's known to be cheap, yummy and satisfying.
Paying 25$ AUD for Mapo Tofu can be a little wtf but my consolation was that they make their own tofu. Which was really good!
The consistency of the inhouse made beancurd was on point. Firm enough that it doesnt split or fall apart while steaming, soft and custardy enough that it disintegrates in the mouth with your tongue. A little expensive, but worth a try. I'd reccomend having this over plain steamed rice. Soo good..
Sichuan style wagyu beef carpaccio with chilli oil and fried bread croutons
$21 AUD
One of my favourite dishes from Mr wong.
This, in very simple terms, is
Beef carpaccio
(aka raw beef aka beef sashimi) meets
Sichuan
.
The dressing for this dish was very similar to the Kou Shui Ji above, but this one tasted 'fresher'
I kept thinking about this dish after my first meal here and I kept wanting to go back to Mr Wong BECAUSE OF THIS DISH!!!
It's light, it's balanced in flavours and its yum. With some cucumber, some fried shallots, or some You Tiao. Speaking of You Tiao I don't know why they call it bread croutons. Isn't you tiao dough fritter? Got bread meh?? Or am I wrong? :X
Peking duck pancakes
half (8 pancakes)
$45 AUD
whole (16 pancakes)
$88 AUD
Because I over ordered the first time, I was restricted to ordering a minimal sum of dishes the second time tee hee hee. But the waiter asked if we wanted to try the peking duck, "It's our most popular dish here, always sold out"
You say
popular
You say
sold out
I say
gimme dat.
It was the last to come and I was excited sitting in anticipation impatiently wanting to stuff it in my mouth.
But the first thing I saw was that it didn't look like the kind of peking duck I'm used to, which has flat, crispy skin, with no or little meat. I don't know if that's a standard, that peking duck is just crispy duck skin and fat, and they cook the remaining meat on the duck to your liking (or you take it to go) but this peking duck looked like ordinary roast duck. The skin wasn't as crisp as I liked it.
The hoisin sauce was overly thick and sweet, I didn't taste it first and just applied a regular amount as I do with peking duck pancakes and the sweetness and flavour of the hoisin was overpowering. Mixed a little water in and it was better.. It also came with julienned leeks, while it
traditionally
(subjected to debate) comes with spring onions.
Not that I'm complaining la.
Jus sayin'.
For something that's their most popular dish I was quite disappointed. Maybe peking duck in western countries are intentionally different from their Asian counterparts but this dish was a one off for me.
Besides it wasnt cheap.. $90SGD for a whole peking duck is quite crazy (We got half)

Overall Mr wong still remains in my list of favourite eats in Sydney. If I'm ever back in Sydney I'll stop by again for sure. Their food , I would say is contemporary modern asian(cantonese), with obviously very heavy asian influences and their little spin of it is great. The wagyu sichuan carpaccio and cumin salt pepper lamb are my favourite dishes and will be a definite re-order the next time I'm back.
Mr Wong
3 Bridge Lane
Sydney NSW 2000
Click HERE for menu
LUNCH
Mon - Sun 12:00pm – 3:00pm
DINNER
Mon - Wed 5:30pm - 11:00pm
Thurs - Sat 5:30pm - 12:00am
Sun 5:30pm - 10:00pm
Dinner bookings available for groups of 6 or more only.
YUM CHA
Sat - Sun 10:30am - 12:00pm
via http://merivale.com.au/mrwong